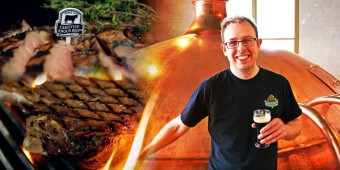 Enjoy this five course dinner that pairs our kitchen's best with Summit Brewing's latest and greatest as picked by Head Brewmaster Damien McConn.
  October 21st, 6:30p – 8:30p

$80 / person
  The Menu
First course :
Pumpkin Soup and Grilled Cheese
Paired with Pilsener
Second Course:
40 day dry age NY Strip and Lobster Wonton
Served deconstructed with pickled vegetables
Paired with EPA
Third Course:
Prime Beef Tips and Shrimp Ramen
Served in a Tokyo wine sauce with vegetables
Paired with Octoberfest
Fourth Course:
150 day Dry Age Cowboy Ribeye
Served sliced with sautéed mushrooms
Paired with Saga IPA
Fifth Course:
Oatmeal Stout Chocolate Float and Apple cheesecake Truffle
  The Brewmaster
Damian McConn's interest in the brewing and distilling industries was sparked by a research project conducted on the Cassidy Brewery and Distillery while attending high school in his native county of Kildare, Ireland. McConn went on to complete an honors degree in Brewing and Distilling at Heriot Watt University in Edinburgh, Scotland, specializing in the ameliorated response of yeast to stress factors imposed via high gravity fermentations.
After a stint at Ireland's first craft brewery and at the Guinness Brewery in London, McConn followed his dream of being part of the burgeoning US craft beer scene by moving to Minnesota in 2000. McConn spent three years as Head Brewer at the Sherlock's Brewpub in the Twin Cities specializing in cask-conditioned ales, before joining Summit in 2003 as a production and project brewer. His role as Summit's Head Brewer includes oversight of the brewing department, training of new personnel, raw materials selection, new product development and brand ambassadorship.